Thursday, March 27, 2003
March Madness...
Tonight was a great night of college baskeball. :-)
I'm now #4 (never having dropped out of the top 10) in the Google Tournament!

My wildcats won tonight, handily beating Notre Dame.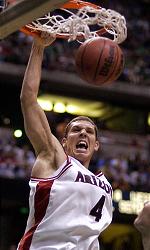 Sophomore Channing Frye has to be one of my all time favorite Arizona players! He's great, i expect good things from him in the future.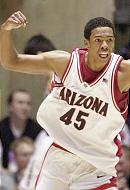 On the other side of the West's bracket, Kansas kicked it out to beat Duke. One man really won it, Nick Collison -- he's incredible!!!!! If Az can keep him from shooting (like we did earlier in the season)...! But he's going to be tough -- he's a smart, talented player.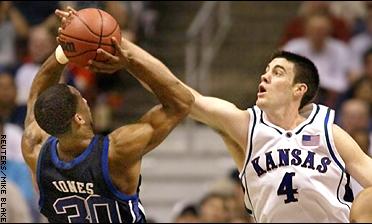 Oh, Kentucky won and Marquette pulled it out against Pitt.

Wednesday, March 26, 2003
wildcats. wildcats. wildcats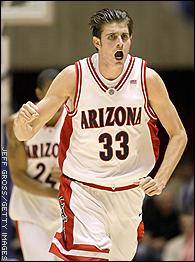 This is a picture of Rick Anderson. He, along with Jason Gardner and Channing Frye (and Luke Walton too)...led the Cats in their win over Gonzaga.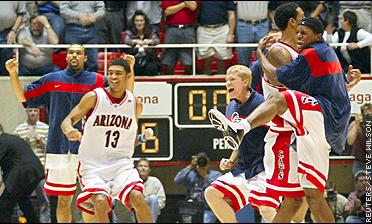 I'm a huge Arizona Wildcat basketball fan. I'm hoping they go all the way this year.
Saturday, March 01, 2003
This is my first try at blogging. not sure where it will go.