Tuesday, March 29, 2005
right now i'm blogging instead of figuring out my taxes...
seriously, i hate filling out forms -- even simple online forms sorta irk me every now and then...but having to fill out a form, fax it or copy it and then submit it just kills me. I can never ever find the stamps. Truthfully these should be the simple, easy, brainless tasks that take moments to complete...but for me the whole process is bothersome. I get rebellious against the beauracracy, against the "man" and the paper-pushers...so, as a direct result, I take a long time to do these "little" things. I let them pile up. By the time I get around to taking care of all the administrative aspects of maintaining my life i'm faced with mountains of paper and it takes hours to weed through it all and i hate hate hate it. I am completely self-tortured here. i know it. aaargh.

the worst part is the satisfaction i get when i'm done. it's freaking glee. you would think that feeling could fuel me through the administrative part, but it doesn't. perhaps the self-torture is more enjoyable. *sigh*
Thursday, March 24, 2005
elite eight

Source: Getty Images / CBS Sportsline

ok, at this point in the tournament -- with an essentially demolished bracket -- i try not to get too excited. but well,

HOLY MOLY ARIZONA IS GOING TO THE ELITE EIGHT!!! YEAH YEAH YEAH!!

i love this team. i have the arizona fight song as my text message alert music (since i get arizona basketball scores sent to my phone). and well, every year i pick them to go to the final four and complete at least one bracket with them winning it all... I restrained myself this year -- and what good did that do my bracket? well none. So, i'm going back to my roots and we're red and blue all over:

Bear Down, Arizona
Bear Down, red and Blue
Bear Down, Arizona
Hit 'em hard, let 'em know who's who;
Bear Down, Arizona
Bear Down, Red and Blue
Go, go, Wildcats, go!!!
Arizooooonaaaa, Bear Down



Image source: CBS Sportsline / Getty Images
It's nice to see salim playing as a team member. Hassan Adams is on the right in the headband.

btw, as a sub-note: while looking for an image to put on this post i did a search [arizona wildcat basketball] and the #1 result is a pic i posted during the 2003 tournament -- when i first started to blog! woohoo. Link.
Tuesday, March 22, 2005
email overload
outlook: 2012 inbox, 297 unread
gmail: 496 inbox, 117 unread

ugh, i am so behind on e-mail my head hurts. i'm not even going to post about how far behind i am on bloglines...

that being said -- i'm in Seattle for the next month! yeah! (although i may go to Portland for a day trip...but that doesn't really count, does it?) and right now i'm also without visitors for the month -- which means a bit less entertaining. I love LOVE having guests (my mum was just here and it was great, except for when i brought up my feelings around "persistent vegitative states") ... but it will be nice to have an empty house for a little while.

i should rephrase that -- empty for now -- i ordered furniture! yes! for real! the first shipment arrives next week, then i get a chunk at the end of April/1st week of May and then the rest (including my beloved couch) will arrive in June. I will finally have living room furniture. I still need a dining table..and outdoor furniture...but well, this is a BIG first step. I'm sooo excited. yippee.

Also, just a heads up readers, I'm planning to have a house warming party in August...

Update: I'm adding this picture because i heart saturn.



Source: APOD/Cassini
Sunday, March 20, 2005
acquisition monday
flickr has been acquired by yahoo.
ask jeeves (and myway.com etc.) has been acquired by Interactive Corp (aka Barry Diller).

wow.

I thought this quote from the flickr blog was interesting:
"Yahoo Photos and Flickr have different kinds of users with different needs, and will remain separate for the foreseeable future. Flickr would also suffer from a sudden deluge of LOL!!!!!!!!!!!!!!! omg! so we're going to grow it carefully."

I've been thinking a bit about online communities and how they work and how I participate in them. My thoughts are pretty much in "draft" state right now -- but here's some initial thoughts:
- i like to participate as a "voyeur" -- i'm curious to see what others are up to -- but i'm not likely to make friends or "network" via interactions i have online...although this does happen occasionally.
- i'm interested in tracking the actions of "influencers" -- aka the cool people in the industry that i have blushes (blog crushes) on.
- i'm interested in a customized web experience that leads me to influencers or other items that reflect the lifestyle i want to lead (which may and is likely different from the online life i lead -- i expect that i consistently contradict myself)

I'm thinking that as more people participate in interactive, online communities -- it's likely to get overloaded with people who aren't really the type of people i want to interact with, even in a voyeuristic sense. That's why this quote from Flickr caught my attention -- "growing carefully" is all about making sure that individuals are able to connect with the right type of people -- the ones they want to connect with -- it's about seeing the trees in the forest. This is a big challenge for open-door communities where you can pretty much browse to anybody. For example, take a look at Orkut -- which has apparently been run over by Brazilians...i know i get random links for "friends" from brazilians on orkut all the time. It's annoying -- because i'm not really interested in the random connection.

so do we create participatory communities where the users share common values without creating barriers to entry that make it difficult for newbies to join? Will online communities that work become more exclusive? where you have to prove your coolness in someway in order to get entry into the truly neat and interesting stuff?

hmmm.....

i wonder who will acquire del.icio.us? or sixapart (moveabletype)? time will tell...certainly feels a bit bubalicious lately.
Saturday, March 19, 2005
it's like a blind date...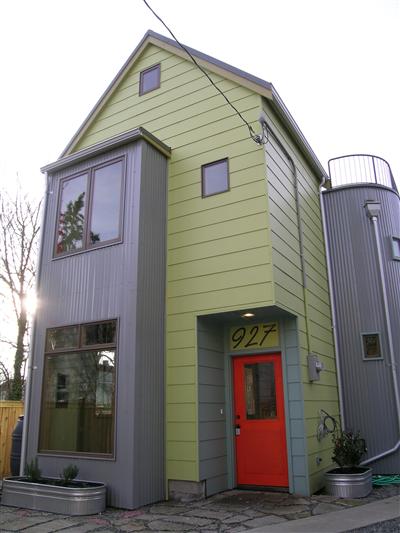 my friend's, Andrea & Jenilee, bought the adorable house above. It's a "green" house -- meaning that is was built with an environmental conciousness that extends not only into the functionality of the house (water, heat conservation) but also in the products used (lots of recycled materials, scavenged wood). They were on TV last night -- it is one of the first green houses in Seattle. Of course, this being local TV, they both had great soundbites:
Jenilee "we bought the house"
Andrea "it's like a blind date" (context: as to how they picked it).
The piece was great and if i can get a digital copy i'll upload it here.

Congratulations Andrea & Jenilee!

On other notes, i'm pretty devastated this morning by Kansas's loss. I heart the Jayhawks. And Syracuse lost too! I had Syracuse beating duke...so from a bracket perspective that was significant. Actually, I had both teams going to the Elite Eight. *sigh* and Stanford lost too...(although much less surprising)...
Friday, March 18, 2005
summer skiing
thinking about calendars, brought me to my summer vacation plans...JB wants to go to Argentina or somewhere in South America to drink great wine and ski. yes, ski. it's winter over there and apparently a great time for skiing. I put the liklihood that we actually go pretty low...maybe 50%...esp. since i just looked at my "schedule" and well, i'm pretty booked in July. Laura's visiting over the 4th, my mum + step dad + the beast (aka the pooch) are visiting the following week -- and then the dog stays for a week! then, well, then harry potter book VI gets released and then i go to chicago to meet anna mae's new baby. phew. i'm tired already! should i go the following week to argentina? maybe, but then two weeks later i'm probably off to a conference in CA for work and then, since i'm there, i'll probably go to Echo Lake for a few days (again with the pooch).

but still, skiing in the summer? in argentina? with JB? it is pretty tempting. and kinda fun-sounding, i could pretend i was an adventurer or something (jb has this "romantic" -- romantic in the sense of the old movies where your car breaks down and the film is black & white -- idea that we'll drive from santiago to the mtns or something -- through the rain forest. i love the idea...)

here's a link to a place we may try: http://www.andesskitours.com/

UPDATE: Here's a pic from my last ski trip w/ Jeebs @ Squaw in...the last millennium?

ladies w/ calendars
ok, so one of the things i love about *some* of my friends is that they actually plan. this may sound like a small thing -- but it isn't. good planning (and execution) can make a difference -- and routinely does. i'm planning to go home in a few weeks to visit my family, see friends and hang out with my pup. It should be good times. However, 70% of the people i'll visit with don't have a schedule or plan. You can't ask them to do things in advance -- it's just too far away. But there are three very special women who i know have calendars and who i e-mailed weeks ago to set up drinks at La Bodeguita. I know they will be there, like clockwork. It's comforting -- esp. since i may now change my schedule and come a week earlier -- since they have a plan i can let them know and we'll rearrange. i like this.
Wednesday, March 16, 2005
i can go to bed now...
i have finally completed my NCAA brackets. Tomorrow, when everyone's bracket's are submitted, i'll probably post my picks here. I went with my heart in a few instances (i mean, Arizona is just a rocking team -- and Washington is HOT -- and you've gotta have some Pac-10 pride)...and old favorites in others (Kansas, UNC, Kentucky -- these are my standards)...

all, in all i think this is going to be an AMAZING tournament. i can't wait!!

(and yes mom, i will still spend time with you this weekend -- that's why i got a DVR).
Sunday, March 06, 2005
self-torture
decorating is hard, particularly when you are slightly neurotic, and a little OCD -- as the visio diagram below illustrates:




i'm literally obsessed with making the "right" choices, and the sad result is that my house is still very empty. this was sorta "cute" in the beginning -- i do have these furry white bean bags...but now, since there's nothing on order, i really do think it has gone too far.

So, in order to make some sort of progress, i mapped out my living room in visio (which has a handy furniture/room template) and tested out a bunch of options. Below are notes on my current top issues -- which i really hope to resolve in the next week -- if you have any feedback i'd love to hear it!

ISSUES:

shipping.
I would like to order everything at once so that i can minimize my shipping / delivery costs.*sigh* this is probably the largest source of self-torture because it means i have to make a bunch of decisions at once. not that i've really made many decisions, but still...

colors.
i've decided that i would like a neutral tone for the furniture, with dark woods (but not that new trendolicious ebony, more of an espresso) with red-rose accents (for things like pillows). however, neutral is posing a challenge, because i inherently think buying creme colored couches is kinda, well, kinda silly. I mean things spill. like wine. but, i think it looks good in the house and that a dark leather couch is too "heavy"... i am trying to find a "camel" color that i like, but often they look too tan (i.e. too much yellow-orange). The secondary tone in the living room is olive. I'm hoping to pick that up, along with the red-rose, in the rug.

rug.
I fell in love with a ridiculously beautiful and expensive afghani wool rug. It's too big though, or so i thought. Now i'm not so sure. Either way, I don't think i can swallow the cost. The smaller green rectangle in the image above is for an 8x10 rug, the larger green rectangle represents the "forbidden" carpet.

budget.
i have some money set aside for this, but the total amount just makes me uncomfortable. even though i'm an amazon-addict, i really don't like to spend money. and deep inside i think owning real furniture somehow means i'm an "adult" and that just creeps the hell out of me.

couch.
I've had the couch that I am thinking of getting selected for weeks now. it is pretty much exactly what i wanted -- three pillow-couch, about 77 inches, and with a modern but elegant feel to it. I like the skinny arms and i wanted the three-pillows because i like to repeat threes in my house. BUT, i still need to settle on a fabric. The boucle linen that it comes with worries me -- i am concerned that it will catch on things. Luckily i can select any fabric from their selection (for a cost of course). Unfortunately that means i'm waiting for more fabric samples. Ideally i think i want some sort of linen (true linen) with a grain, however, i'm also considering a micro-suede because i like the texture. Texture is really important.

accent chairs.
ok, i am completely losing it when it comes to accent chairs. I don't like the ones that coordinate with the couch -- they are too boxy. I want something with a bit of a curve to it. but that doesn't look too old-fashioned or traditional -- i still want a modern feel. right now i am leaning towards these harlowe chairs -- but they are armless. will guests miss the arms? will they fall off the chair? will it be uncomfortable? i have literally run about a million scenarios through my head on this issue, and i've even gone and sat in an armless chair to test it out. it felt fine. but it still worries me. i like arms. i prefer arms. at the same time, i really like the clean lines of the harlowe armless chair...see: self-torture continues.

reading nook.
i think i have this one figured out. I'm going to get the Luke chair w/ ottoman in ambassador fudge leather. it looks sumptious, and should provide a perfect comfort zone for reading the NY times on sunday mornings listening to itunes. Mind you, i looked at about 100 chairs first, do i want bronze tacking? what about thick-stiching? how deep should it be? smooth leather or textured? pillow-back or flat back? uh-huh...

tables.
rectangle or circle. i think i've finally decided to go with a circular table - more flow. now that shape is decided, what should it be made of? glass? wood? a glass-wood combo? that would be ideal, but so far i haven't found one. I'm also thinking about getting a bench that can repurpose as a table. two-for-one.

accessories.
i haven't even started to think about accessories...accent pillows and flowers seem easy and i surely have enough knick-nack stuff to pull out some cute stuff. the key here is "grouping:" according to one magazine i read. If you have, say, random statues and little desk things you picked up in hong kong all over the house they look unrelated..but you pull them together into a group and they become a "harmonious and interesting collection". hmmm.
Wednesday, March 02, 2005
happy birthday Yahoo!
I read this post from john batelle month's ago, and it still strikes me as one of the more important statements to come from David Filo at Yahoo:

From the entry (filo makes a point)on batelle's blog:

[John Batelle] asked if they still believed in the vision and hype of the mid 90s - about how the internet was going to change everything... Filo came out with a great line about the early promise of the internet - that we'd all become creators and producers of content - and how long it takes to fulfill:

That was the promise of the internet from day one -when Mosaic came out the whole idea was that anybody could publish now, that was the new thing ...yet it took this long to get to simple blogging... If you said ten years ago that you could have blogging in ten years, and that will be the extent of it, people wouldn't have been that impressed. Indeed. In 1994, anyone claiming that in ten years, we'd have a robust self-publishing movement like blogging would have been drummed out of the room for a lack of vision.

Congratulations Yahoo! on making it to 10. It's a good thing for all of us.

Yahoo's also posted a 10-year Netrospective (inspired by 10x10 by Jonathan Harris):
http://birthday.yahoo.com/netrospective/

awww memory lane.