Saturday, July 19, 2003
let sleeping dogs lie
I'm taking care of my co-worker's dog ely. He's a wonderful pet. so well trained and mellow. I've taken him with me to work the last two days and he was wonderful...he came with me to all my meetings and he's been a big hit. There was one minor incident -- he ran into a water post and punctured his leg. It was quite scary -- he was bleeding, but we had a health fair that day at work and my vet from Adobe Animal Hospital was there! they checked him and said he was ok. i'm cleaning the wound with hydrogen peroxide twice a day and putting on some neosporin. Ely doesn't seem to notice a thing, and the owund is healing fine, but it totally freaked me out.

Last night we went over to my parents house for dinner. We went to the local park and then had dinner outside in the backyard followed by a walk downtown for ice cream and those pearl tea things. At the end of the night, after a full day of work and walking around town, we were pooped and both feel asleep in my mum's living room -- as the picture below by my mum shows.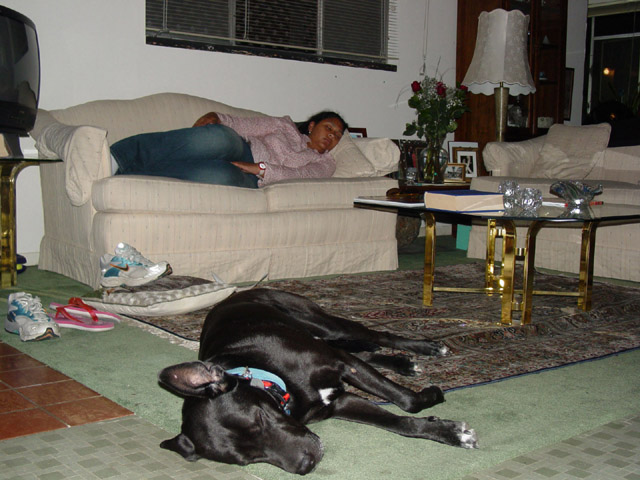 right now he's sleeping on the floor ... soooo tired after a morning at the beach and breakfast with Vignetta at my old hangout, the Grove, on chestnut. We visited catnip + bones too -- where he tasted yummy treats and charmed everyone.
¤
posted by Natala : 7/19/2003 02:31:00 PM
Links to this post: