Saturday, October 23, 2004
karaoke...
Ain't it funny how a melody can bring back a memory
Take you to another place in time
Completely change your state of mind
It can make a right from a wrong, it can make you fall in love
It can get you singin' along
-- Clint Black


last night i went out for karaoke. even though i don't sing, this is one of my all-time favorite things to do. last night was no exception. my favorite "performer" of the evening had to be this very rugged looking guy who sang dean martin's "that's amore." it was just awesome.

on another note....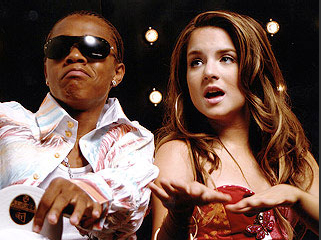 Photo Credit: Universal Records via MTV.

i'm going to have to admit that i like the incredibly teeny-boppy video and song from the 13-year old JoJo, "baby it's you." Not only does the song feature lil bow wow, it promo's the sidekick as the hip phone to have...and it is just damn catchy.


¤
posted by Natala : 10/23/2004 11:11:00 AM
Comments:
heya not many ppl have left a note so i thought iwould i found this site of google wen searchin 4 a pic of jo jo and bow wow and found ur sit wanted 2 say that i think its well gd and u can visit ma site at www.glamourpruncess.zoomshare.com
nuff luv glamourprincess
Post a Comment