Monday, February 06, 2006
happy 85th grandma!
My grandmother turned 85 today! and she's still cooking up trouble! My sister and i both sent her birthday greetings (well my sis sent her's first and reminded me to send mine!). Here's the screen captures:
#1 - Sheila (pic via isight?)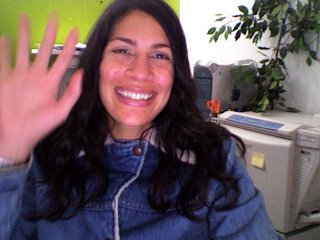 #2 - Me (sent via MSN Messenger, i went the full video interactive route -- to which my grandma said "oh but sheila sent me a picture" and i said "but i'm talking to you LIVE!")



Since my mom is the big blogger these days...you should probably check out her blog for the updates:
joychase.blogspot.com (aka moi and mine)...

note: <-- picture not taken by ichat removed 2/7/06 per comment below, and re-posted w/ permision per eml and updated as possibly from isight-->
¤
posted by Natala : 2/06/2006 04:36:00 PM
Comments:
Bloggers. I am the sister to a blogger. Who apprently thinks that images that come her way can be posted without consent of the one "imaged". I am coming to realize that anything private and personal, even if a little shared moment for my grandmother, is potentail posting blog fodder. Hence, the avoiding process begins of the blogger. Don't give them access to photos, or little personal moments, it may be published. (To be extreme). I used to be a poet and one of the grandest jokes was how the people we dated, our families, and our friends, became our "material". So goes it with blogs. Both poetry and blogs have value, they both can be incredible resources to document social history, maintain the truth of alternative perspectives in this Dr. Jeckle and Mr. Hyde world. But the "luddite" I am, can every once in a while get ticked off, and prefers some things to remain a personal moment between two peopole, between family, and not for the world to view, and comment on. So here lies my protest to my personal moment with my Grandma being blogged.--Sheila
Both pics looked great! And, the family was no end impressed with all the instant technology. Love you both. Mum.
Post a Comment
Links to this post: